Of course, we're a little late to the party, but it was announced earlier this week that popular pop singer Lady Gaga will be teaming up with the Muppets in "
Lady Gaga & The Muppets Holiday Spectacular"
which will be taking over TV screens on November 28th on ABC.
Other celebrity cameos include Elton John, Joseph Gordon-Levitt, Kristen Bell, and RuPaul.
It is also worth noting that Lady Gaga is scheduled to make a cameo in
Muppets Most Wanted
as well.
Aaaand, Disney released three photos from the special.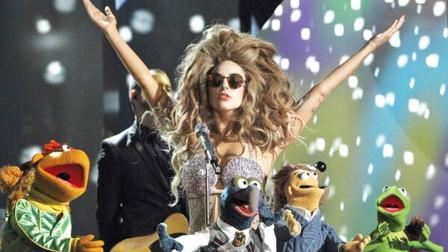 Looks fun, promising, and very Muppety. Be sure to tune in on November 28th on ABC!
Author Brian Jay Jones, author of the recent (and incredible) Jim Henson: The Biography appeared on the Today Show with Frank Oz to talk about Jim Henson and his brand new book. Was an incredible tribute to Jim and is a must-see for all Henson fanatics.
George Orwitz, known for creating greatly detailed plush of classic characters announced he would be creating a plush based on Red Fraggle, for only $1,200. What a deal!
We're being sarcastic. While the plush looks incredibly detailed and set, it most probably is not worth $1200.
In sadder news this week, according to recent reports, The Jim Henson Company's latest TV series, That Puppet Game Show has been cancelled from it's home on BBC.